By Kelly and Rachel
On Saturday, we woke up early to a blueberry waffle breakfast generously prepared for us by our hosts, Jerry and Jeanette! With fresh blueberries and maple syrup! Delicious. They also had some extra leftover waffles which we shoved into Rachel's pannier to munch on later that day. Jerry and Jeanette had to catch a flight to China that afternoon, so we left early (after making a slight alteration to their adventure van, see below) and went to a coffeeshop to finalize our middle school lesson plan, our accommodations, our route, and other details for the rest of the week.
Our hosts in Lodi, Jerry and Jeanette. C4S aficionados in the house --
can you spot the latest yellow additions to their epic sticker collection?
This was the only day of the entire trip that we weren't planning on teaching, so we took that as our cue to relax… and relax we did, followed by relaxing, and then, well, relaxing some more. We lounged in Lodi for longer than we'd expected -- we sent out email blasts, posted our first blog, ate an (extremely late) lunch at a brewery around 3pm, and as we were about to leave at 5pm, realized Johanna's back tire was flat (for the first time…~foreshadowing~). Since we were now pressed for time and still had to book it to Stockton before dark, we walked to a bike shop which was just a block away to swap the tube.
Cheesin' and cheers-in' over a cheesy salad at our lunch spot in Lodi
When we arrived at the bike shop, the door was locked and no employees were to be found (even though the hours posted on the door said they should be open). We quickly hit up our good friend googlemaps and found another bike shop just a couple blocks away, so Rachel and Johanna sprinted to the bike shop with just the back wheel, while Kelly stayed behind at the first bike shop to guard the pile of three bikes minus one wheel.
Wheel life. What's missing from this picture?
At the bike shop, in addition to getting Johanna's tube replaced, Johanna and Rachel asked about the best roads to take to get to Stockton. The man at the shop suggested a route that he said would be "polite enough" (Rachel made sure to jot that phrase down alongside the notes she took, and Johanna made sure to tease her for it). When they got back to Kelly, they found that with her massive bike pile she had made some new friends - a couple from Fremont visiting Lodi on a romantic getaway! They had just been wine tasting (one of the key attractions in Lodi) and were waiting for their Lyft to take them back to their hotel (don't drink and drive, folks).
After the tire got fixed, we biked 15 miles to Stockton, with the last three along an incredibly busy road (Pacific Ave.) with no shoulder and cars whizzing by at high speed. Terrified, Rachel rode in the caboose and for the first time sported all of her neon garb. Pacific Ave. was definitely not "polite enough."
We also came upon a beautiful trail next to the San Joaquin River just north of University of the Pacific, and saw the beginning of a sunset before biking off (we really wanted to get to where we were staying before dark).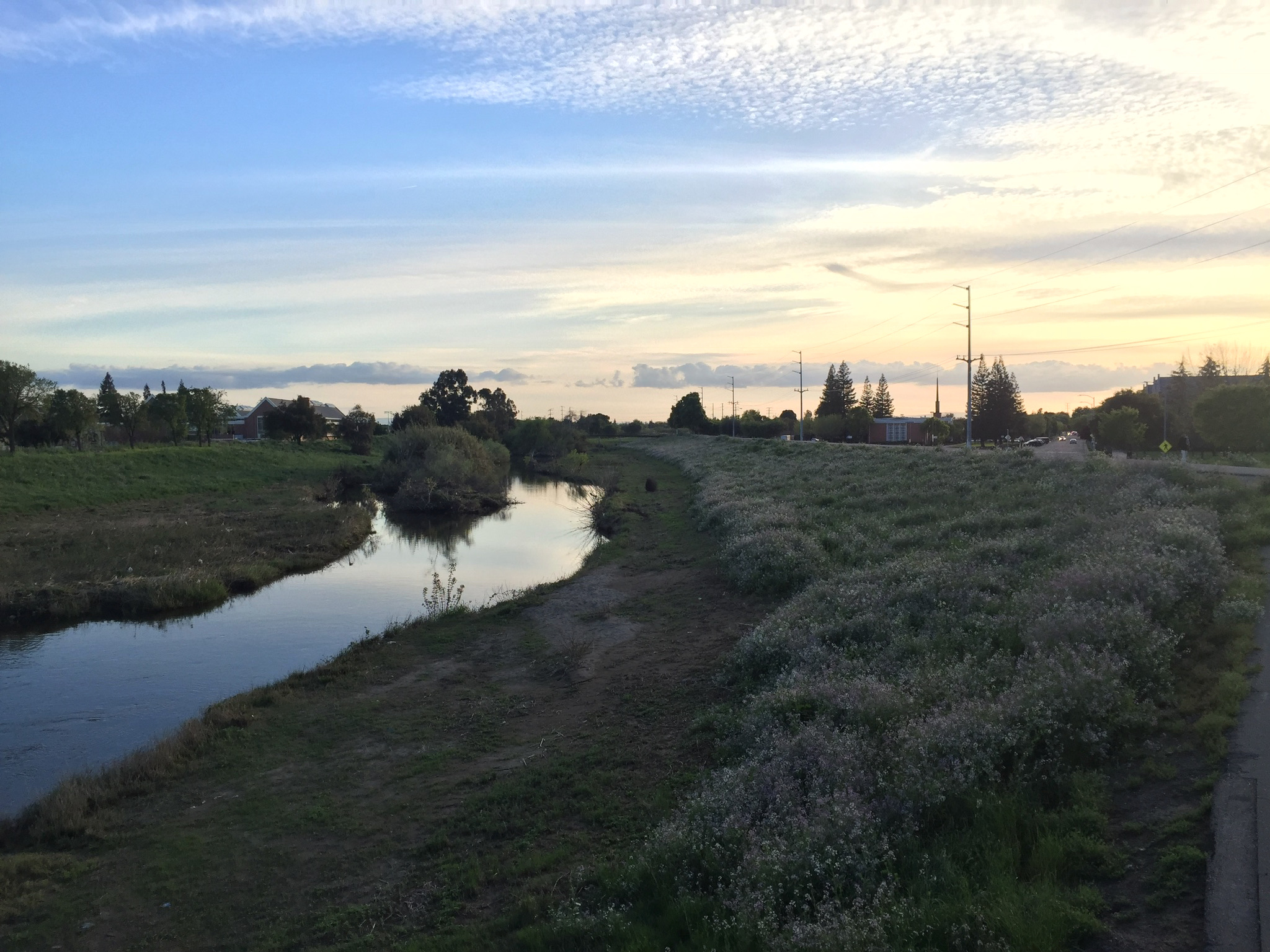 Initially we were planning to camp somewhere east of the Stockton, but a few days before our trip started Rachel's friend Aryeh (science PhD student at Stanford) put her in touch with the extraordinarily inspiring Lange Luntao. Lange is a teacher at Aspire Langston Hughes Academy (part of the Aspire Public Schools network) and is a newly-elected Trustee of the Stockton School Board. Side note: one of his campaign goals was to create an Ethnic Studies program for high school students in Stockton Unified School District, and on April 11, 2017 the school board voted UNANIMOUSLY to pass his initiative! Congrats Lange!!!
Lange put us in touch with Stockton high school chemistry teacher Brandon James, who put us in touch with Marianne Prieto, who gave us an offer we could not refuse: teaching a workshop at the Stockton Children's Museum (see Day 3's blog post)! And, even though Lange had flown in from Ghana earlier that day, he let us three stinky cyclists stay at his house (two out of two hosts so far who opened their homes to us despite international flights on the same day! People are so kind!!).
So right as the sunset was fading from the sky, we pulled up to the white picket fence around Lange's house in the Miracle Mile neighborhood of Stockton.
We knocked and rang, but apparently we had beaten Lange home (oops). Instead, Camillio, one of Lange's friends and the boyfriend of his housemate, opened the door and, though he initially had no clue who we were or what the devil we were doing there, he helped us lug our trusty steeds inside and get settled. We soon found out that Camillio, along with everyone else in the house, was a teacher. his year he is training teachers for Teach for America, after having gone through the program himself. We reclined on the comfy couches and exchanged adventure stories with Camillio. He talked a bit about his own path into the field of education, and gave us some teaching advice that we carried with us for the rest of the trip: limit the lesson to a few key, digestible points and be very clear with your expectations for the students before beginning any activities.
Camillio confessed that he misses teaching kids. He loves teaching in part because he gets to be a "rockstar every day" and gets to be the center of the students' school world.
After talking to Camillio for a while, we realized it was pretty late and our grumbling tummies reminded us that we hadn't eaten dinner yet. So we headed to a nearby Korean restaurant, Seoul Soondubu. Each of us ate an entire bowl of tofu soup and a bunch of sides. Bean sprouts and jap chae...delicious. In a soju-induced daze, Rachel also gracefully donated her wallet to the floor.
Kelly refueling for the next day's bike ride
After dinner, we headed to the Empresso Coffeehouse down the street to figure out the nitty gritties of our lesson plans for the following week. It was too late to caffeinate (2 L8 2 caffein8 … yes, this is Rachel writing now, surprise), so to effectively "rent" a table for a few hours Rachel ordered steamed milk and was mocked by two women sitting at a table near us ("who the heck orders steamed milk??"). "I DO!" she exclaimed, and added that it's actually quite delicious when mixed with cinnamon and turmeric and maybe a little bit of brandy (golden milk for life!). The women turned beet red - "I didn't know you were... right.. there! Yeah um that does sound like something that would be nice to drink before going to sleep." Mhmm, sure it does ;)
At the coffeeshop, we figured out our game plan for the next day at the Stockton Children's Museum, where we were told to prepare to teach kids age 0-14 (stay tuned for our next blog post to find out how!). Then, working closely off of the structure from Rachel and Elizabeth's Sol-Cycle-centered 2015 lesson, and proposing new analogies, thinking deeply about how to break down energy conversion concepts, and acting out a mini-runthrough, we finally hashed out our plan for teaching 7th and 8th graders for the rest of the week. We stayed in the coffeeshop until almost midnight, at which point we were the last people besides the employees and they booted us out because they were closing. We must have looked pretty steamy sipping on our steamed milk getting ~heated~ about steam-powered turbines.
At the stroke of midnight, we headed back and met our host Lange at his house (he had apparently just returned from a funk party with Stockton's mayor Michael Tubbs, the youngest mayor in American history in a city of over 100,000 !!). We chatted briefly about our game plan and how the effectiveness of our presentations could be enhanced with some classroom training and more preparation, and Lange suggested that we talk to K-12 science teachers about how they plan their own lessons. Unfortunately, we were unable to do that this time as we had to prioritize finalizing our lesson plan and were ridiculously busy with teaching lessons and biking after that, but we are excited about the prospect of working with Lange and the teacher community in Stockton in the future.
Next: Kelly passed out instantly on the couch, Johanna and Rachel used their last remaining reserves of the day's energy to inflate their air mattresses, and then they joined Kelly to catch some zzz's for the next day.